NATURAL FARMING
Title of Project: "Outscaling of Natural Farming through KVKs"
Natural Farming is a chemical-free alias traditional farming method. It is considered as agroecology based diversified farming system which integrates crops, trees and livestock with functional biodiversity. Natural Farming is the most important way and alternate of agro ecological sustainability and to mitigate and address the climate change as well as chemical free agriculture. It is a high time to conserve natural resources and revive already depleted natural resources by propagating natural farming to save the soil, water, environment, animal and human health and ultimately overall agro Eco systems.
In India, Natural farming is promoted as Bharatiya Prakritik Krishi Paddhati Programme (BPKP) under centrally sponsored scheme- Paramparagat Krishi Vikas Yojana (PKVY). BPKP is aimed at promoting traditional indigenous practices which reduces externally purchased inputs. It is largely based on on-farm biomass recycling with major stress on biomass mulching, use of on-farm cow dung-urine formulations; periodic soil aeration and exclusion of all synthetic chemical inputs. According to HLPE Report, natural farming will reduce dependency on purchased inputs and will help to ease smallholder farmers from credits burden.
Natural Farming offers a solution to various problems, such as food insecurity, farmers' distress, and health problems arising due to pesticide and fertilizer residue in food and water, global warming, climate change and natural calamities. It also has the potential to generate employment, thereby stemming the migration of rural youth. Natural Farming, as the name suggests, is the art, practice and, increasingly, the science of working with nature to achieve much more with less.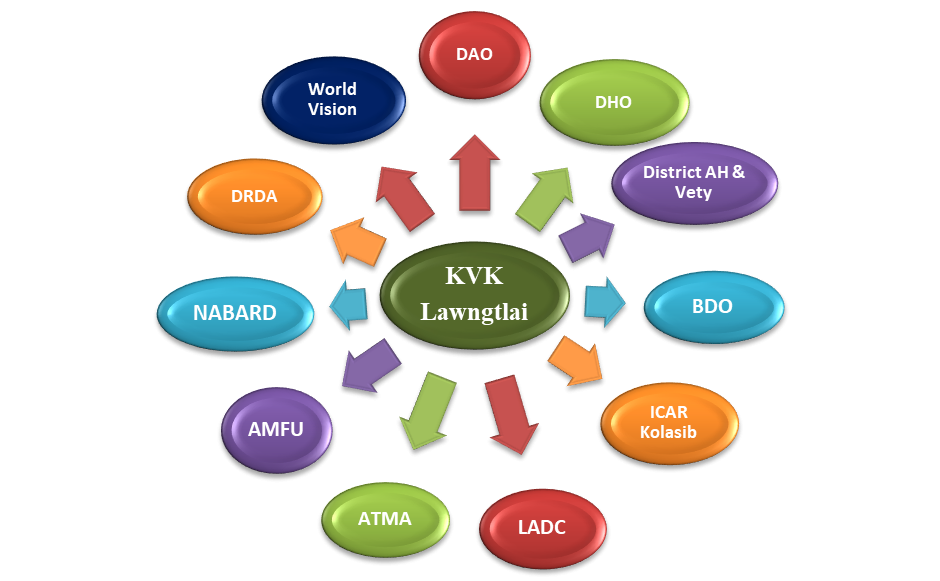 Fig: Linkage Established By The KVK with other Agencies for different activities under Natural Farming
Benefits of NF:
Improve yield

Increased Farmers' Income

Minimize cost of production and increase farmer's income

Ensure better health

Employment generation

Eliminate the application of chemical inputs

Environment Conservation

Reduce Water Consumption

Rejuvenate Soil Health

Livestock sustainability

Reduces cost of cultivation

Reduces water requirement of crops

Climate change resilient, reduces risks in farming

Rejuvenation of farm lands

Safe and healthy food for citizens

Utilising the available cattle (Desi Cow) as valuable resource

Helps in arresting growing needs for fertilizer and reduce subsidy burden
Components of Natural Farming:
Jivamrit – Soil Inoculant

Bijamrit – Seed Inoculant

Mulching

Soil Aeration
Several Trainings, awareness camps, poster camps, Kisan Goshtis, Demonstration along with awareness materials such as leaflets, folders, posters and flyers has been given to the farmers about the importance, benefits and adoption of Natural Farming. Being less consumer of chemical fertilizers these activities captured the attention of farmers as well, which paves way for their adoption to various process of Natural Farming.
Awareness Materials under Natural Farming